Custom Design Doors
Professionally-installed custom garage doors in the Dallas-Fort Worth area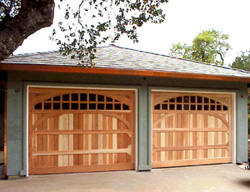 Since the dawn of garages, the phrase "garage door" and custom have always been synonymous with the highest-quality, most feature-rich option available. Our Dallas TX custom garage door company can provide you with the finest customized hardwood garage door available.
Get the garage door you want, how you want it!
Although custom garage doors are typically more expensive than other types of doors, many view the trade-off between cost and customization is more than worth the sacrifice. When it comes to getting the exact garage door that your mind desires, there is no other way to go beside our custom garage doors in the Dallas-Fort Worth area.
When you purchase a custom garage door, you can customize almost everything to your liking, including:
Color
Finishes
Wood Type
Insulation
Panels
Architectural Design
Call TBS Custom Doors today for a free custom garage door estimate!