Stock Wood Garage Doors
Dallas TX Stock Hardwood Garage Door Installation Experts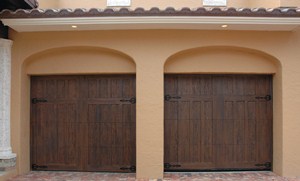 If you want the luxury of a hardwood garage door, but you don't think your budget can make it happen, a stock garage door might just be for you.
While the customization of semi-custom and custom garage doors may sound attractive, you can always customize your garage door on at least one level: the selection of your style. Stock garage doors usually come with limited features and never feature glass windows, but they have a style within themselves that will spice up the outside of any garage.
For the finance-conscious wooden garage door lover with a limited budget, stock hardwood garage doors are the way to go!
For more information, or to attain a free stock garage door estimate, please call our Dallas-Fort Worth garage door company at (214) 731-3000.